As soon as I set foot in Ao no Za, an exclu­sive resort that overlooks the spectacular Lake Shikotsu in Chitose, Hokkaido, I knew that I was in for something special. One of the first things you see upon entering the lobby is an eight-meter-wide wall that features imagery from the Jomon period (14,000–300 BC), the earliest recorded era of Japan's history. The design of the lobby was inspired by Hokkaido's indigenous Ainu culture, brought together with a modern sensibility. After taking time to enjoy my surroundings, I was greeted by a courteous member of Ao no Za's staff, who helped me check in and then showed me to my room.
Rooms with a view
I was even more impressed when I walked into the spacious 100m2 suite furnished with two double beds, sofa, coffee table and dining table. From the spacious balcony, I could see a stunning view of Lake Shikotsu's deep blue waters and quickly understood why the lake had inspired its own colorful name: Lake Shikotsu Blue. This is also the inspiration behind the name of the resort itself. As the staff member who helped me check in explained, ao means blue in Japanese, while za means gathering.
I was a little tired after the morning's journey from Tokyo, and thought that the perfect way to relax was to soak in the suite's two baths. First, I tried the indoor jet bath, which was blissfully soothing and melted away all my cares. I didn't think that things could get any better, but next was the room's private rotenburo—or open-air bath—which offered a perfect combination of views and relaxation. Surrounded by the natural beauty of the lake and Mount Eniwa, along with the luxurious warmth of the natural hot spring water, it was far too easy to lose track of time. Now fully relaxed and refreshed, I decided it was the perfect time to curl up on the bed and take a nap.
Fine dining
When I awoke, it was time for dinner. I made my way downstairs to a private dining room where I was treated to a splendid kaiseki (Japanese course meal) dinner. Each dish put a spotlight on Hokkaido's renowned seafood and produce—from succulent crab to farm-fresh local vegetables—and was as much a delight for the eyes as the palate. My dinner was accompanied by a magnificent local sake, which complemented the flavours of the diverse ingredients perfectly. I took advantage of the rotenburo one more time before calling it a night.
After a restful sleep on my exquisitely comfort­able bed, I felt ready for a bit of exploring. I went on an invigorating walk along the shores of Lake Shikotsu and admired the scenery, which included the peaks of Mounts Fuppushi and Tarumae, off the southern shore of the lake. Later in the day, I took a drive out to visit the impressive Moichan Falls and went on another short hike around the area.

Creature comforts
Following my little adventure, I returned to the resort and decided to indulge at Tamao, Ao no Za's spa. After taking a look at the extensive body and facial treatments on offer, I opted for the Thémaé Harmony package, which combines a 60-minute full-body massage with a Hydration Strategy facial treatment. First, the expert masseuse worked all of the tension out of my body, leaving me more relaxed than I've felt in months. The facial treat­ment, which includes a three-stage washing process, left my skin absolutely radiant and translucent.
That evening, I went to the resort's teppanyaki counter, where I feasted on masterfully grilled Hokkaido wagyu beef. I decided to try a local craft beer with the steak, and it was excellent. It was hard to decide which meal I enjoyed more—the kaiseki delights of the night before or tonight's selection of local beef. I knew that I would be leaving the next day, so I decided to make the most of it, spending a good part of the evening relaxing in the rotenburo, gazing out across the lake and up at the stars in the clear night sky.
The next morning, at check-out, I found myself already looking forward to the next opportunity to come back to the resort. Perhaps I will return with a group of friends to stay at one of the even more luxurious executive villas. Some are twice as large as the resort's suites and truly provide the feeling of staying in one's own personal vacation home.
Given everything Ao no Za had to offer, I felt as if I had packed a month's relaxation into a single weekend.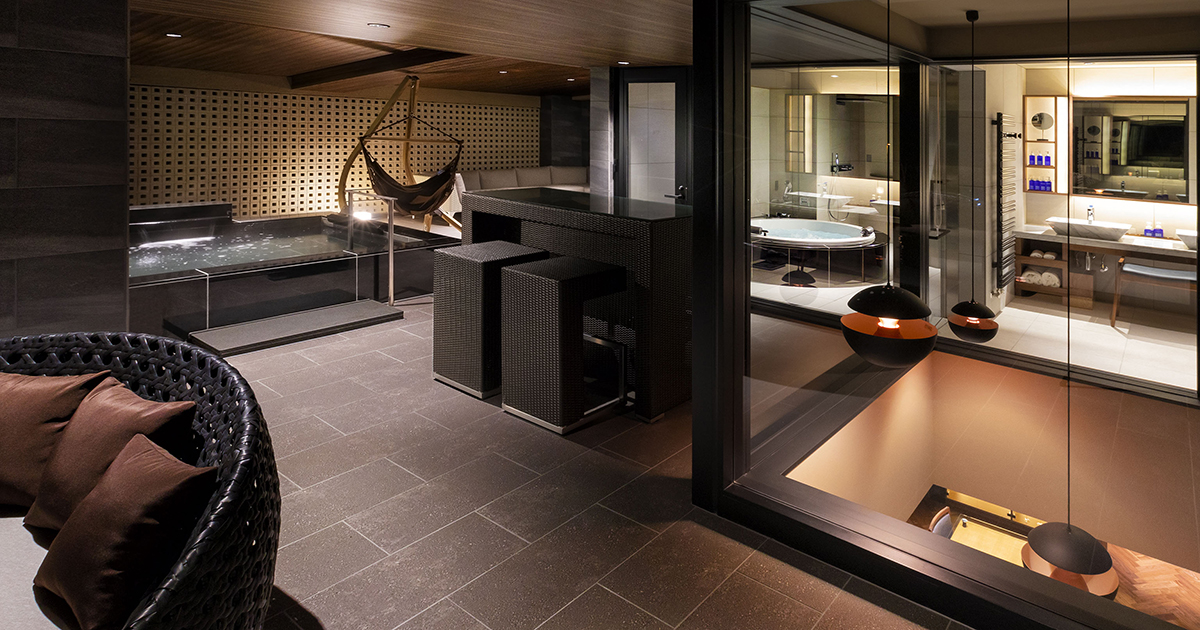 Lake Shikotsu Tsuruga Bessou Ao no Za
Shikotsuko Onsen, Chitose, Hokkaido
0123-25-6006 | aonoza.com
Custom Media publishes BCCJ ACUMEN for the British Chamber of Commerce in Japan.
© BCCJ ACUMEN